Erica from yeahwrite.me stopped by to give me my beautiful blog button! Isn't it gorgeous?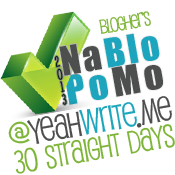 I may not have written my best stuff this month. I clicked "published" before I was ready. Before November, I had become almost paralyzed in my writing. If it wasn't the best, I didn't want to put it out there. I agree with the belief that quality matters more than quantity, but practice also makes perfect, right? And practicing certainly isn't always perfect. Practice is the process, and during the process there are bound to be mistakes.
I love the challenge of writing a post every day. It forces me out of my need for perfection. It forces me to click "publish" even when I don't think my post is perfect. This is good. If I waited for my writing to be perfect, it would be a long time before you read my writing again. Either that, or I would edit my writing right down to nothing!
Here's something else I've been working on; my sister helped me to make this video for The Mother of All Meltdowns and the special promotions we have this month! Be sure to visit our website for more details on the sale!
Watch the video on my YouTube channel.